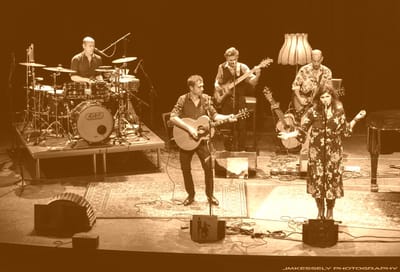 The 70's Unplugged startte in 2014 met haar eerste shows in de Nederlandse theaters. De bandleden delen een grote voorliefde voor ambachtelijk gemaakte popsongs uit de 70's en hieruit ontstond het eerste programma The Best of Acoustic Popmusic.
The 70's Unplugged richt zich vooral op de mooie popliedjes uit die tijd met songs van o.a. Fleetwood Mac, The Eagles, James Taylor, Joni Mitchell, Linda Ronstadt, Beatles, Rolling Stones, Supertramp e.v.a.
Met veel gevoel en enthousiasme zingen Vannessa en Joost hun versies van deze 70's klassiekers. Vaak verrassend, soms sentimenteel, maar altijd vol vuur en met respect voor het origineel. De ijzersterke band zorgt voor een muzikale sfeer waarin de songs het best tot hun recht komen.
De afgelopen jaren werd de groep een geliefde act op de theater, pop- en festivalpodia van ons land met steevast volle zalen en een razend enthousiast publiek. Eén van de hoogtepunten tot nu toe was een optreden op het Royal Park festival op Paleis Soestdijk.
Na de succesvolle tour rond het Fleetwood Mac-album RUMOURS en de show LOVE THE ONE YOU'RE WITH komt de band in 2022 met het gloednieuwe concert Songs for the Road.
The 70's Unplugged:
Vannessa Thuyns – leadvocal, piano
Joost Dobbe - leadvocal, guitar
René Veerhuis – drums, vocal
Leo Mongula – bass, vocal
Jan Willem Verbeek – guitars, mandolin
Techniek Jeroen Pluijmers
Facebook.com/70unplugged
Boekingen:
ProActs